Local Events and Opportunities

Community activities and events are listed below. All items listed have been approved by the district office for posting. In most cases, paper copies of these postings can be found in the designated school building's office. By clicking on the headings below, more information regarding the events can be viewed.

---
School & District Related Events
---
East Lansing Educational Foundation Events
---
East Lansing Educational Foundation Awards All-time Record Amount in Grants to Teachers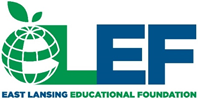 The East Lansing Educational Foundation (ELEF) has awarded 45 grants totaling $67,124 to East Lansing Public School (ELPS) teachers. More than 2,000 K-12 students in the ELPS community will benefit from grants that create added curriculum opportunities in the arts, science, technology and math. In its 35 year history the foundation has funded more than $360,000 in grants to East Lansing Public Schools.

ELEF board president Kwafo Adarkwa called this latest round of grants "the largest giving total in the history of the foundation and signals renewed commitment from the foundation to continue to support academic excellence in East Lansing Public Schools." Adarkwa added, "This is our reason for being as a foundation and our foundation will keep working to generate private financial resources in the community to make days like this possible."

Behind every grant is a story of students and teachers; here are a few from this past school year:

"Our ELEF grant allowed us to bring the Peace Path conflict resolution tool into our classrooms. The pictures and leadership language let students walk through problem-solving on their way to become Peace Path Ambassadors." –Erin Woelmer

"Through ELEF funding, second grade teachers worked with Impression 5 Science Center to create a science program based on district grade science standards. All ELPS second graders participate in a science experience founded on STEM learning and science behaviors and teachers saw a marked improvement in students' skills in these areas." –Julie Maloney

For a complete list of the grants go to: www.elef.us/grant-program

Grant funding comes from the Foundation's Year End Campaign and from the Awards Dinner (May 14, 2020) at East Lansing High School.

To make a donation towards future ELEF grants, go to: www.elef.us/donations

Mission Statement:
The East Lansing Educational Foundation is a diverse organization pursuing excellence and innovation in education through community engagement, strategic partnerships, ongoing fundraising and effective programming.
East Lansing Educational Foundation Membership & Donation Opportunities
Dear Friends of the East Lansing Educational Foundation:

Through wind, rain, and snow a dedicated team of community volunteers meets on the second Tuesday of each month with one ultimate goal in mind; to help raise funds to distribute to East Lansing Public Schools teachers, administrators and staff.

It has been my pleasure over the past few years to be a part of this team, better known as the East Lansing Educational Foundation, and to help raise those funds and to assist in reviewing the requests for assistance for our classrooms that come in each fall. From your donations, the ELEF was able to fund grants this year totaling over $48,000. I wanted to share just a few of those wonderful requests that were awarded this year.

East Lansing High School
$1,058.00 for two new cameras for the yearbook staff
$3,939.90 for mini iPads for the Math Department

MacDonald Middle School
$3,500.00 for a new 3-D printer

Donley
$4,760.00 for a science partnership with Impression 5 Science Center

Glencairn
$1,199.25 for performance stages for the music department

Marble
$2,398.00 for Ozbots for STEM enhancement programs

Pinecrest
$718.00 for parental support literature

Whitehills
$3,400.00 for Drum Fit - a collaborative effort between P.E. and music classes
As you can see, students at every school in our district benefit from your generous support to the ELEF. As we enter the season of giving, I humbly ask that you once again open your hearts and your checkbooks to assist the ELEF in its mission to continue to provide that extra support our ELPS teachers, administrators, and staff so deservingly need. We all benefit from this generosity of spirit and our community is a much richer place for it. Please fill out the enclosed donation form or visit us online at: www.elef.us to contribute to the ELEF in whatever amount you can spare. All donations are extremely appreciated.
Have a safe and happy holiday season,
Blair Renfro
President, East Lansing Educational Foundation
Children and Youth Choir Program
Cantabile (ages 7-10; Mondays, 4:45-5:30 p.m.) $180.25 per semester
This ensemble is for students ages 7-10 who are ready for the focus, challenge and excitement of choir participation. Cantabile rehearses once a week for 45 minutes and performs each school year. Students build basic choral singing skills including breath management, healthy vocal production, and balance and blend. Additionally, students learn the expectations of choir participation including at-home practice, discipline and active participation in each rehearsal.
CMS Singers (ages 9-14; Tuesdays, 4:45-6 p.m.) $226.50 per semester
CMS Singers is for students ages 9-14. CMS Singers rehearse once a week for one hour and 15 minutes and perform each school year. Students study fundamental singing techniques, focusing on tone quality, intonation, ear training and music literacy. Additionally, students explore the enjoyment of singing with musicality, movement and expression. Singers learn and perform appropriately advanced repertoire from various styles and time periods in a fun, yet focused environment.
MSU Children's Choir (grades 5-9; Tuesdays, 6:30-8:30 p.m., & every other Saturday, 9 a.m.-12 p.m.) $278 per semester
The MSU Children's Choir (MSUCC) is for treble singers (unchanged voices) grades 5-9 and is the premier touring ensemble of the Children and Youth Choir Program. MSUCC rehearses every Tuesday night for two hours and two Saturdays each month for three hours and performs each school year. The singers of MSUCC refine their aural and music literacy skills while further developing their skills as independent musicians, expressive artists and musical ambassadors. Students learn choral repertoire of various time periods, languages and styles including jazz, musical theatre and folk repertoire in addition to traditional choral music.
MSU Youth Chorale (grades 9-12*; Mondays, 6:00-8:30 p.m.) $242 per semester
The MSU Youth Chorale is an ensemble in which students will study the singing techniques related to the changing voice while focusing on tone quality and production, breath management, intonation, ear training, and sight singing. The chorus explores a wide variety of repertoire ranging from classical to pop music and performs in various unique and enriching performances throughout the year.
The MSU Youth Chorale is structured into two groups:

*Tenor/Bass Voices: for tenors and basses with changing or changed voices, grades 7-12. Rehearsals: Mondays, 6:00-7:45 p.m.
Treble Voices: for students in grades 9-12. Rehearsal: Mondays, 6:45-8:30 p.m.

Each week, the tenor and bass voices rehearse with the treble voices of the MSU Youth Chorale to gain experience singing in a mixed choir and have the opportunity to make great music and meet singers from all over the Greater Lansing area.
Auditions:
Informal auditions are held for all CMS choirs with the Children and Youth Choir Director - no prepared material is needed. To schedule an audition, email Alison Geesey-Lagan at geeseyal@msu.edu.
Financial assistance is available for those in need.
City of East Lansing/East Lansing Parks, Recreation, & Arts Upcoming Events
East Lansing Department of Public Works Offers Holiday Collections
The East Lansing Department of Public Works (DPW) will, once again, be offering extra recycling days, no-fee holiday refuse collection and Christmas tree recycling to residents this holiday season.
Extra Recycling Days
East Lansing residents are encouraged to take advantage of extra, free, City-wide curbside recycling days on the following Mondays: Dec. 16, Dec. 23 and Dec. 30. These collection days are being offered in addition to residents' normal curbside recycling days. Residents can fill their carts with clean, accepted items and place them at the curb for collection. All items need to be placed inside the cart with lids closed. For a full list of accepted items, visit www.cityofeastlansing.com/recycle.
Community members are reminded that polystyrene (commonly referred to as Styrofoam) is not accepted as part of the City's curbside recycling program, but that it can be dropped off at the East Lansing DPW recycling drop-off site, 1800 E. State Road, which is open 24 hours a day, seven days a week. The drop-off site is also a great place for recycling oversized cardboard boxes that won't fit easily inside recycling carts.
No-Fee Holiday Refuse Collection
For items that can't be recycled, the City will be offering no-fee holiday refuse collection Dec. 17-Jan. 3. During this time, residents can dispose of extra refuse without the use of a yellow City trash bag. Refuse will be collected on residents' normal collection day only, except where changes are necessary due to holidays: www.cityofeastlansing.com/holidaycollections. Yard waste and bulk items are not included, and all bags must weigh no more than 40 pounds.
Christmas Tree Recycling
The City will once again collect live-cut Christmas trees this winter. The trees will be chipped and used as mulch in East Lansing parks or donated to the Michigan Department of Natural Resources for use as rabbit habitats. Trees can be placed curbside for collection anytime between Friday, Dec. 27 and Monday, Jan. 13. Advance phone requests and stickers are not required. Drop-off sites will be available through Jan. 13 at the following locations:
• Patriarche Park – parking lot on Alton Road
• Emerson Park – Arbor Drive entrance
• Henry Fine Park – parking lot at Winchester Drive
• Valley Court Park – south of the Valley Court Community Center
• Albert A. White Memorial Park – parking lot at Pebblebrook Lane
All bags, holiday decorations and tree stands should be removed and trees taller than 6 feet should be cut in half.
Simple Recycling
Community members looking to make room for new items in their home this holiday season are reminded about the Simple Recycling program. Residents can place clothing, textiles and a variety of household items in Simple Recycling bags and place them at the curb for collection on their regular curbside recycling day. Learn more: https://simplerecycling.com/.
Residents can call the East Lansing Department of Public Works at (517) 337-9459 with questions about any of these collection services.
Screenagers — A Community Event
Event: Free community screening of an award-winning and powerful documentary, Screenagers, followed by break-out discussion groups; snacks and beverages will be served
Location: Hannah Community Center, Albert White Theater, 819 Abbot Road, East Lansing
Date and Time: Sunday, Jan. 26, from 3 to 5:30 p.m.
Premise: Award-winning documentary, Screenagers, explores teenagers' use of social media and video games as well as the advent of internet addiction. And in an age where the digital divide is leaving some older generations feeling lost and disconnected, we want to foster a community-wide, intergenerational conversation about using technology in a balanced way. Technology can both enhance connection and make us feel disconnected; it can help us access information but also leave us overwhelmed. Moderated breakout discussions will be held following the movie.
Author Sarah R. Baughman to Visit ELPL on Tuesday, Dec. 17
Author Sarah R. Baughman will be visiting the East Lansing Public Library (ELPL), 950 Abbot Road, on Tuesday, Dec. 17 at 7 p.m. for a free, family friendly event.

Community members might have known Baughman as Sarah Reinhard back in the '90s when she lived in East Lansing and worked as a page at ELPL. In fact, Sarah grew up in East Lansing and is returning to her hometown as newly published author Sarah R. Baughman.

To the delight of middle school readers and adults, Baughman released her first novel, "The Light in the Lake," in September 2019. It is a moving, page-turning debut novel about grief, family, the possibility of magic and the beauty of science.

At the ELPL event, Baughman will read from her book, answer audience questions and sign audience copies of her book. Copies of the book will be sold onsite by Schuler Books & Music. This special event offers young readers the opportunity to meet an author, perhaps for the first time, who grew up in the same City they did.

More About the Book
"The Light in the Lake" features 12-year-old Addie, who has been told she should avoid Maple Lake after her twin brother, Amos, drowned there a few months ago. However, its crisp, clear water runs in her veins and the notebook Amos left behind is filled with clues about a mysterious creature in the lake's inky blue depths, which keeps calling her back.

Brimming with hope, the agony of a child's first experience with death, the beauty and enchantment of a summer spent lakeside and pleasantly punctuated with STEM appeal, "The Light in the Lake" is an inspiring coming-of-age novel for fans of "The Thing About Jellyfish," "When You Reach Me" and "The Fourteenth Goldfish." Baughman's middle-schooler voice is pitch perfect and rarely does a first-time author have such a firm grasp on emotion and character. "The Light in the Lake" buoys themes of grief and the afterlife, while empowering brave readers to explore possibilities and wonder.

More About the Author
Baughman is a former middle and high school English teacher who now works as an educational consultant and author. She graduated from Grinnell College and the University of Michigan, then went on to teach English overseas in three different countries – China, Bolivia and Germany. After six years in rural Vermont, Sarah now lives with her husband and two children in her home state of Michigan, where she spends as much time as possible in the woods and water. "The Light in the Lake" is her first novel.

PRAISE FOR THE LIGHT IN THE LAKE

"Compassionately told, this compelling debut brings to life conservation issues and choices young readers will confront as adults." – Kirkus, starred review

"Heartbreaking and hopeful … The novel offers a gentle, introspective exploration of grief and the wonder and fragility of nature, creating a beautiful and dynamic world in which the scientific method and magic coexist." – Publishers Weekly, starred review

"Haunting, memorable and full of mystery, The Light in the Lake is a brilliant combination of beautiful, lyrical prose and a compelling, exciting story … Baughman has created complex characters with real, deep emotions and a picturesque setting that will make readers feel as if they are at Maple Lake with Addie." – BookPage
East Lansing Art Festival Ranked 64th in the Nation by Sunshine Artist
The East Lansing Art Festival (ELAF) is proud to announce that its 2018 event received a national ranking in the September 2019 edition of Sunshine Artist, America's Premier Art and Craft Show Magazine. Among the list of the 200 best art fairs and festivals in the nation, the ELAF was ranked 64th in the Fine Art & Design Category.

Each September, Sunshine Artist brings national exposure to the best art festivals and fairs in the United States with its annual feature, "Sunshine Artist 200 Best."

The 200 best art events in the country are designated each year through an artist voting system, in which artists send in ballots listing their 10 top-selling events of the year. This allows Sunshine Artist to base its ranking primarily on festival sales.

"It's wonderful to see the East Lansing Art Festival being honored for its success," said East Lansing Art Festival and Arts Initiatives Coordinator Heather Majano. "Our juried festival draws exceptionally talented artists and a large base of knowledgeable and loyal art patrons to downtown East Lansing each year. This national recognition is something that everyone can be proud of."
Call to Artists, Emerging Artists for 57th Annual ELAF
Artist applications are currently being accepted for the 57th Annual ELAF. The 2020 festival will take place May 16-17 in downtown East Lansing.
The ELAF will be accepting applications through January 31, 2020 and artists can apply at https://www.zapplication.org/event-info.php?ID=7899. Artists must submit their online applications, four images of their work and one image of their booth for consideration. Emerging artists must submit their online application and five images of their work for consideration. There is a $25 online application fee for those artists that apply prior to Nov. 30 and there is a $35 online application fee for those artists that apply after Nov. 30.

The ELAF attracts tens of thousands of visitors to downtown East Lansing each year with its showcase of artists from across the United States. In addition to art, the festival features live music on an outdoor music stage, children's activities, a food court and much more.
Coding and Cookies - Present by Students for Females in STEM
DECEMBER 15, 2019
1 PM TO 4 PM
Use main entrance,
The event is in the library!

East Lansing High School
509 Burcham Dr
East Lansing, MI
All materials provided
Everyone who codes will receive a cookie and a chance to win a Microsoft Surface!!
Everyone is welcome!!
East Lansing Public Library Reading Buddies
ELPL Reading Buddies
Practice reading aloud with a high school or college student!
Monday & Thursday Every Week 5pm-6pm
Beginning November 4, 2019
EAST LANSING PUBLIC LIBRARY
950 Abbot Rd
East Lansing, MI 48823
www.elpl.org
EveryoneOn
EveryoneOn is a national nonprofit working to eliminate the digital divide by making high-speed, low-cost Internet service and computers, and free digital literacy courses accessible to all unconnected Americans. Through partnerships with local Internet service providers, EveryoneOn is able to offer free or $9.95 home Internet service in 48 states and the District of Columbia. We work with device refurbishers, so individuals and their families can purchase discounted devices, including $150 tablets and $199 laptops.
Parkwood YMCA Active After School Program
The YMCA bus will pick your child up from the East Lansing school and transport him or her to the Parkwood YMCA. Children will be picked up by the school office and they should also bring a snack. There will be time for Kids Gym, P.E. games, and swimming. Following the class, children must be picked up at the Parkwood YMCA by 6:00pm.
Additional Details
Parkwood YMCA Winter Break Camp
Spend your Winter Break at the Y! Your child(ren) will spend the day with trained YMCA staff playing a variety of summer camp style games. During camp enjoy arts and crafts, swimming, field trips, and much more! Bring a healthy lunch w/ drink and swimsuit & towel. You can sign up for just one day or for all six days. Please have your child here before 9:30am to enjoy the field trips. Ages (3-12)

**Only schoool age participants will be going on the field trips and swimming
Michigan State University Community Language School Language Classes for Preschoolers, Children & Teens
Our weekly language classes for preschoolers (ages 3-6), kids (ages 6-9) and teens (ages 13+) provide practice for speaking and listening while incorporating some reading and writing. Children are grouped by age and proficiency;
Classes are held in Wells Hall at MSU starting the week of January 13, 2020 until the week of March 23, 2020. All classes meet for 10 sessions. Multiple-child/-program discounts (10%) and need-based scholarships are available. Classes will be cancelled if fewer than 5 students enroll. There will be no classes during MSU's spring break (March 2-6, 2020).
Trojan Aquatics MMS Swim & Dive Team
NOVEMBER 18
MMS SWIM & DIVE TEAM
REGISTER ONLINE at:
trojanmiddle. swimtopia.com
Open to athletes in Grades 6 7 8
We compete against other local middle school teams. Our swim focus is on technique in the four competitive strokes, starts, and turns. Older swimmers work toward preparing for high school teams. Divers focus on learning the 6 dives needed to compete in middle school-level meets. A medical physical is required to participate. Details from the 10/29 team parent meeting can also be found on our website under the Docs & Links tab.