Local Events and Opportunities

Community activities and events are listed below. All items listed have been approved by the district office for posting. In most cases, paper copies of these postings can be found in the designated school building's office. By clicking on the headings below, more information regarding the events can be viewed.
East Lansing Community Photo Contest
Show us what you love most about East Lansing by submitting up to five high resolution photos taken in the community during any of the four seasons!

Winning photos will be featured in City of East Lansing marketing pieces - online and in print.

Submit your photos by Sunday, Oct. 15 at midnight. Find more information and submit photos at
www.cityofeastlansing.com/photocontest

Event Flier
East Lansing Educational Foundation Events
East Lansing Educational Foundation Membership & Donation Opportunities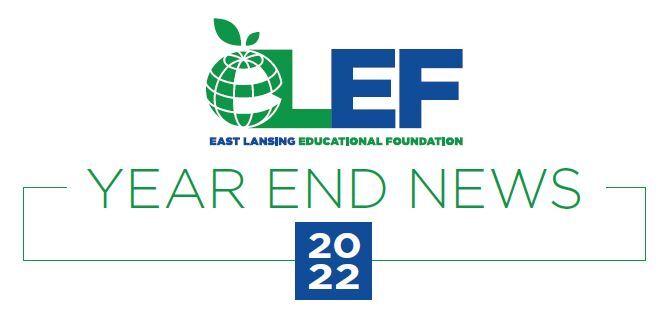 Letter From the President of the
ELEF Board of Directors

"The greatness of a community is most accurately measured
by the compassionate actions of its members."
- Coretta Scott King
At the East Lansing Educational Foundation, we support ELPS educators and students with resources to support excellence and innovation. Our grants support the academic development of all students in the district, as well as their development of critical thinking, creativity, character and collaboration. To accomplish these goals, we partner with the community to raise and distribute financial resources. Thanks to your incredible support, ELEF celebrated many accomplishments during the 2021-22 grant cycle.
We received the largest one-time gift in our history of $100,000 to a Science Olympiad endowment from anonymous donors.
Thanks to a $20,000 gift from Dr Robert Posey and Judy Posey (story inside), ELEF created two new scholarships.
Nelson and Mei Ng documented a new Robotics Endowment that will provide support for the transportation, equipment and competition costs of the team.
We received a gift of over $5,000 from the Class of 70. Alumni support makes an important impact and we are grateful to the classes who remember ELEF at their reunion celebrations
Since 1984, ELEF has provided nearly $800,000 in teacher grants and our endowment is valued at nearly $1.5 million. After adjusting for the challenges of the pandemic, we are feeling momentum and excitement around our programming. We are honored to have your support and welcome your continued participation. Supporting ELEF allows us all to make a difference in the lives of our students and our community. Let's continue growing!
For more YEAR END NEWS from the East Lansing Educational Foundation, please follow the link to the full newsletter below!

ELEF Year End News 2022

Donation Form
East Lansing Educational Foundation Presents Sarah Tarpoff Creative Writing Award Winning Stories
History of the Sarah Tarpoff Creative Writing Award
The Sarah Tarpoff Creative Writing Award began in the spring of 1985 as a memorial to a young East Lansing girl named Sarah Beth Tarpoff. She was a student at the now closed Bailey School when she died in a horse-back riding accident. This accident occurred at the same time the school was closing. As a result, the school's Parent Teacher Organization decided to combine the remaining PTO assets with monies given to the Tarpoff family in Sarah's memory to begin a writing award and a new education foundation that has become the East Lansing Educational Foundation!
An accomplished rider, Sarah loved horses more than anything. She also loved to write and draw, so this award program was created in her name to foster and encourage other children to express themselves through writing and drawing.
For over thirty years the Sarah Tarpoff Creative Writing Project has been open to all students in East Lansing Public Schools, from kindergarten to high school seniors, who submit an original poem, story or essay no longer than 1,000 words. Each manuscript is read and evaluated by high school students in Honors English, under the direction of their teacher, to evaluate and judge submissions. Everyone who enters receives a ribbon honoring their participation. In addition, all students, Kindergarten through grade 12, may also receive first, second, third, or honorable mention ribbons.
For many years the Creative Writing Award was organized and run by Sarah's family, with the help of many others dedicated to encouraging the language arts. It then transitioned into an East Lansing Educational Foundation sponsored program, retaining the core mission of encouraging creative writing within the East Lansing community and school district. First place entries are published, with parental permission, on the East Lansing Educational Foundation website and linked to the East Lansing Public Schools website.
The 2022-23 school year 1st Prize Award-winning entries will be showcased and published on the East Lansing Educational Foundation (www.elef.us) and the East Lansing Public Schools websites starting July 2023.
Stories By School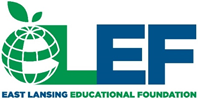 EveryoneOn is a national nonprofit working to eliminate the digital divide by making high-speed, low-cost Internet service and computers, and free digital literacy courses accessible to all unconnected Americans. Through partnerships with local Internet service providers, EveryoneOn is able to offer free or $9.95 home Internet service in 48 states and the District of Columbia. We work with device refurbishers, so individuals and their families can purchase discounted devices, including $150 tablets and $199 laptops.
Research Opportunity at Michigan State University - Camp Kidpower!
We are researching a camp-like intervention to see if play experiences with other children can reduce worries, fears, or anxiety.

Kid Power Brochure
Michigan Department of Health and Human Services: Power Up by Getting Caught Up