WELS CABLE TV 24/902
---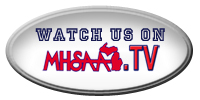 View WELS full sports games, concerts, school board meetings and special events on the internet. For On-Demand videos available: go to http://www.nfhsnetwork.com/schools/east-lansing-high-school-east-lansing-mi website or click on the MHSAA TV logo to the left. If the video doesn't display properly, the page may need to be re-loaded.
---

For DVD's or Blu-Rays of channel 24/902 programs, contact Aaron Most at 333-7547 or email him at aaron.most@elps.us
Important Notice: Comcast transitions area programming to digital format and new channels -
Comcast has announced area public, education and government (PEG) programming will transition to a digital format (a digital converter, digital service or compatible equipment will be required) on Jan. 15, 2008. Pending the outcome of a lawsuit, Comcast will continue to simulcast the East Lansing Public Schools channel on both Channel 24 and 902.
The transition will move WELG from Ch. 22 to Ch. 912, the East Lansing Government Access from Ch. 23 to Ch. 913 and the East Lansing Educational Access from Ch. 24 to Ch. 902 . For info call Comcast at 1-877-824-2984.