Building Information

East Lansing High School is a comprehensive high school serving grades 9-12 in a community with rich traditions and a history of excellence. The programs and activities at ELHS offer opportunities for our students to excel in academics, athletics and the arts. Teachers are highly qualified in content areas and relationships are a critical component of the learning environment.
ELHS offers a diverse curriculum which allows us to meet the needs of all students. Partnerships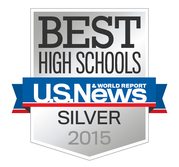 with the Capitol Area Career Center, Michigan State University, and Lansing Community College offer our students additional opportunities to enroll in career development training and/or jumpstart their college classes by taking dual enrollment courses. Our students have traditionally competed for seats at some of the nation's most prestigious colleges and universities.