| | |
| --- | --- |
| East Lansing High School Parent Council | |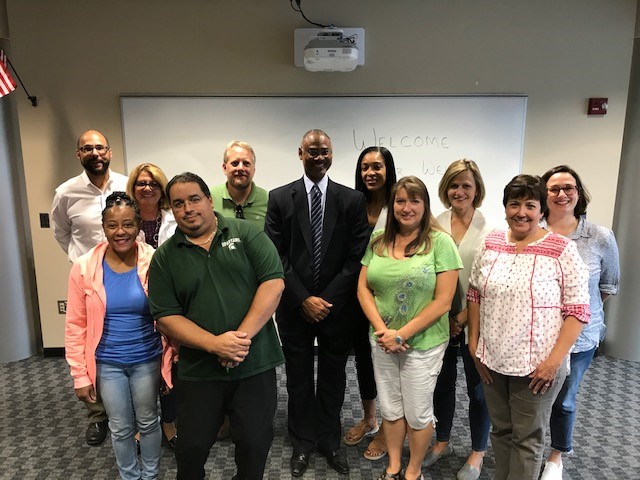 This is only a sampling of the Parent Council's membership.
Do you know who is missing? You are. The Parent Council is open to all parents and guardians of ELHS students.
Your attendance at any of the meetings is welcome, although if you want an active Council role, we are currently in need of:
Teacher Luncheon Coordinator – Vice-President of Communications – Top Scholar Event Co-Coordinator
Timely Announcements

Hello ELHS Families!
First Parent Council Meeting of 2018
The first Parent Council Meeting of this school year will be on Tuesday, September 11th, at 6:30pm in the HUB. Remember, every parent and guardian of an ELHS student are automatically members of the Parent Council, so please consider joining us for our business meeting and learn more about what we do for ELHS students.
Upcoming Dates and Deadlines

September 10 Board of Ed Meeting @ 7pm

September 11 – ELHS Parent Council Meeting@ 6:30 p.m.

September 12 – Senior Parent Meeting @6 pm

September 14 – PSAT Registration Due

September 21 -ELHS Directory OPT- OUT Form
ELHS Homecoming

September 26- Late start day @ 9:45 a.m.
College and Career Visits

Please Sign-up for College Visits in the Student Services Office. Meeting at Student Services Office, unless noted otherwise.
September 10 - Middlebury College - 12:30pm

September 13 - Michigan State University - 9:30am
SCAD - 9:30am

September 19 - Aquinas College - - 9am
Central Michigan University - 10am

September 21 - Western Michigan University - 9:30am
September 25 - Kalamazoo College - 9:30am –
University of Chicago - 10:30am –7:00pm in the Student Union*
September 27 - University of Toledo - 9:30am
This E-bulletin is written by the ELHS Parent Council as a courtesy to all families. If you have any questions or information for future e-bulletins, please contact ELHSParentCouncil@gmail.com

Keep up-to date with ELHS Parent Council at https://www.facebook.com/elhsparentcouncil or https://twitter.com/ELHSPC.
2018-19 Parent Council Board Members

President & DPC Rep
VP Communications
Treasurer
Secretary
Program Coordinator
Teacher Grants
Student Grants
International Families
Web Shepherd
Staff Meal Coordinator
Family Directory
At-Large
Lisa Rutkowski
Kimberly Steed-Page
Barb Becker
Lynette Long
Byron Lane
Linda Wychers-Caldwell
Heather Brown & Melissa Lehti-Shiu
Wendy Sylvester-Rowan
Yvette Collins
Jennifer Sitze-Martin
Chrissy Bates & Heidi Dempsey
Andria Ditschman

You may contact any Board member at ELHSParentCouncil@gmail.com
Proposed Meeting Schedule & Programs for 2018-19

October 9 - Supporting LGBTQ Students and Families
November 13 - College Admissions
December 11 - Business Meeting (if necessary)
January 15 - Non-College Alternatives
February 12- State of the School
March 12 - Mental Health Awareness
April 16- Substance Abuse Awareness (RESA)
May 14- Business Meeting - vote in new Board Members
The East Lansing High School Parent Council:
Assists with the communication between parents/guardians and administrators. Our high school principal or one of his assistants, and an East Lansing Board of Education member attend the parent council meetings to share updates and gather feedback on current school-related issues.

Smooths the transition from middle school to high school and beyond. Many of our monthly meetings include speakers on topics useful to parents such as high school curriculum, college admission information, vocational training opportunities and addressing the achievement gap. We've initiated a monthly parent poll to identify other topics of concern.

Assists in volunteer support for general all-school needs. We have a number of volunteer opportunities. Examples include, Fall & Spring staff luncheons, academic assistance/tutoring in the library before and after school, and helping with one-time needs that occasionally arise

Assists in funding educational enhancements outside the school budget for teachers, such as technology, equipment and traditional learning materials. This support ranges from purchasing graphing calculators and projector document cameras to providing art supplies and travel expenses for class field trips.
In addition to your time and service, please support Parent Council by making a $25.00 donation now. So that we can continue to help support our incredible teachers and hard working students in ways that school budget can not.
If you prefer, checks made payable to the ELHS Parent Council may be delivered to the office by your student or through the mail: Attn: Parent Council, East Lansing High School, 509 Burcham Drive, East Lansing, MI 48823
For more information and a volunteer form which can be printed, filled out and returned to the office, see our Welcome Letter.