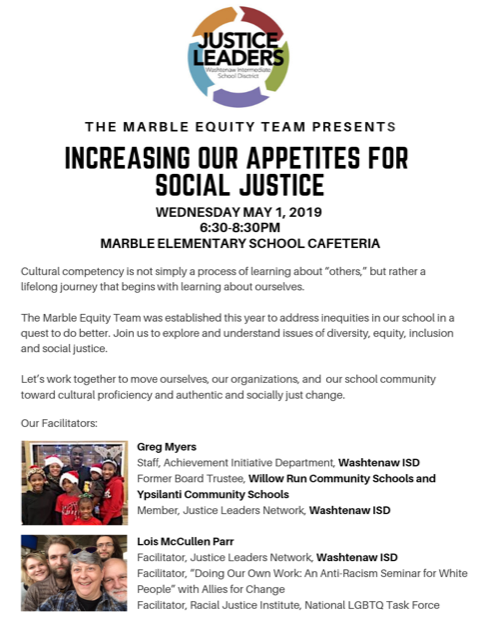 Get your tickets now! Space is limited and tickets are available for a short time. You don't want to miss this opportunity! Register at:
https://www.eventbrite.com/e/increasing-our-appetites-for-social-justice-registration-56382312013
For our first event, we are inviting Equity Team members, ELPS administration and teachers, Board of Education members and Parent Council reps to attend this workshop centered around
the underlying principle that cultural competency is not simply a process of learning about "others," but rather a lifelong journey that begins with learning about ourselves.
Participants will be exposed to a four levels framework to explore and understand issues of diversity, equity, inclusion and social justice at the individual, interpersonal, institutional, and cultural levels. Additionally, participants will engage in learning and dialogue about social justice concepts and educational best practices to help move themselves, their organizations, and their communities toward cultural proficiency and authentic and socially just change.
Our facilitators:
Greg Myers
Staff, Achievement Initiative Department, Washtenaw ISD
Former Board Trustee, Willow Run Community Schools and Ypsilanti Community Schools
Member, Justice Leaders Network, Washtenaw ISD
and
Lois McCullen Parr
Facilitator, Justice Leaders Network, Washtenaw ISD
Facilitator, "Doing Our Own Work: An Anti-Racism Seminar for White People" with Allies for Change
Facilitator, Racial Justice Institute, National LGBTQ Task Force