Amnesty International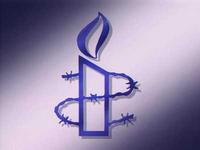 Mission:
Amnesty International exists to secure the release of prisoners of conscience; ensure fair and prompt trials for all political prisoners; abolish the death penalty, torture and other cruel treatment of prisoners; end extra-judicial executions (political killings) and "disappearances"; and to educate the student body about world atrocities.
Visit the international Amnesty website.
Amnesty International meets on Monday nights throughout the year. Listen to the daily announcements or check with an Amnesty leader to join the Facebook group. Follow us on Twitter @ELHSAmnestyClub.

Contact the Amnesty advisor, Bonnie McGraw, at bonnie.mcgraw@elps.us
Yearly events include:
Letter writing and Tweeting to protest international human rights violations
Human Rights week
Penny Wars - proceeds from this year's event went to The Girl Effect
Talent Show (not every year)
Kick it for Congo Soccer tournament
Educational presentations on various atrocities around the world *Money from events is used for Fundraising to aide children and families in need around the world.

Amnesty - Torture Informational Slide Presention
Amnesty International
Advisor: Bonnie McGraw
Meets Monday at 8:00 PM in HS Rm 257